Thursday, March 30, 2006
Playday with Cole and a little bit of epilepsy
Today My mommy and i went to Coles house so that we could play together. We had a good time.. we even shared a Chicken Nugget happy meal. I got to see his new baby brother Hayden and give him hugs. We also had to take Cricket to the vet and see what all the craziness was about. They said that she was having seizures and that she has epilepsy and we have to give her medicine 2 times a day Forever. She wont eat the pill so mommy has to wrap it up in some cheese. mommy is sneaky. Well my birthday party is in two more days. mommy filled my pinata last night with some yummy candy. and we got the decorations for the top of my cake. it is going to ve so cool.. OH YEAH i cant wait :)
Thirteen Toys that is Rileys Favorite

1…. John Deer Tractor ( this was supposed to be one of his birthday presents, But Mommy felt bad because even when it was in the box i was still trying to ride on it.
2. Ball .. Any size any color!
3. Mommys Book and reading light
4. My lawnmower
5.Push Corn Popper
6. The X-box Controller
7. telephone
8.Remote
9.my new Spider man Couch
10. MMMMM
11. My V tech nursery Ryme talk to me Book
12. Cricket

Links to other Thursday Thirteens!1. (leave your link in comments, I'll add you here!)

Get the Thursday Thirteen code here!

The purpose of the meme is to get to know everyone who participates a little bit better every Thursday. Visiting fellow Thirteeners is encouraged! If you participate, leave the link to your Thirteen in others comments. It's easy, and fun! Be sure to update your Thirteen with links that are left for you, as well! I will link to everyone who participates and leaves a link to their 13 things. Trackbacks, pings, comment links accepted!
View More Thursday Thirteen Participants


Saturday, March 25, 2006
*Visiting Hayden*
This is one of my Brand new Friends, his name is hayden. he is sooo little and i wasnt allowed to touch him. But i did get to admire him from afar :) he will be in attendence to my birthday party maybe then i will be allowed to touch him and hug on him :)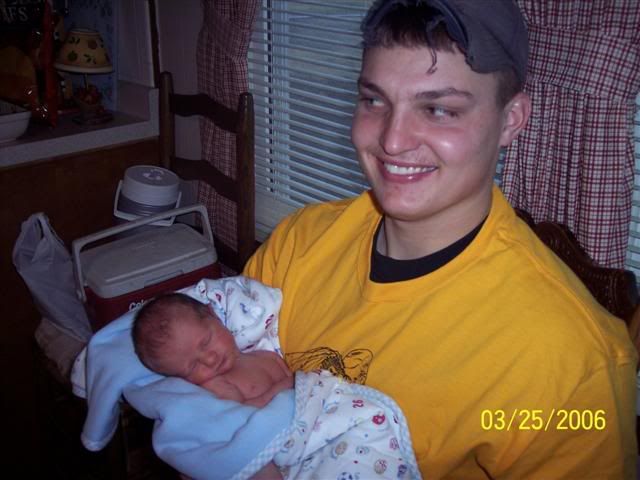 This is my daddy loving on hayden. Mom wants a brother or sister for me soon, and she was trying to convince my daddy while he was holding the baby. how could you resist?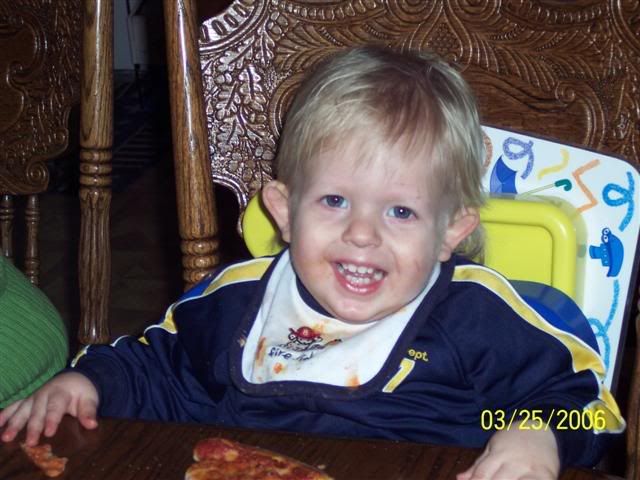 This is Haydens big brother cole.. i have written about him before. Cole is so lucky to have a brother to play with. Woe is me!
Thursday, March 23, 2006
Thirteen Things about Riley

1….My Birthday is April 16
2.. I was named after noone in particular
3..i Still dont sleep through the night
4..i have 10 teeth
5..i will be living in a totally different country in about 2 months
6.. i like Go, Diego, Go on nickelodeon
7.. i pull my mommys hair
8. i am an avid climber
9. i have had a cold or some sort of illness at least one week out of every month for 11 months now (no lie.. you should see his runny nose right now)
10..i have blue eyes
11...my favorite place to snooze is on my daddys chest
12.. banana is my favorite fruit
13. I love all of my blog readers & thank u for putting up with my mommys lateness on most of my blog entrys.. she has been stressed out a lot, but soon things will be kicking back into high gear!


Friday, March 17, 2006
*Its that time.. For my First hair-cut*
What exactly is going on here?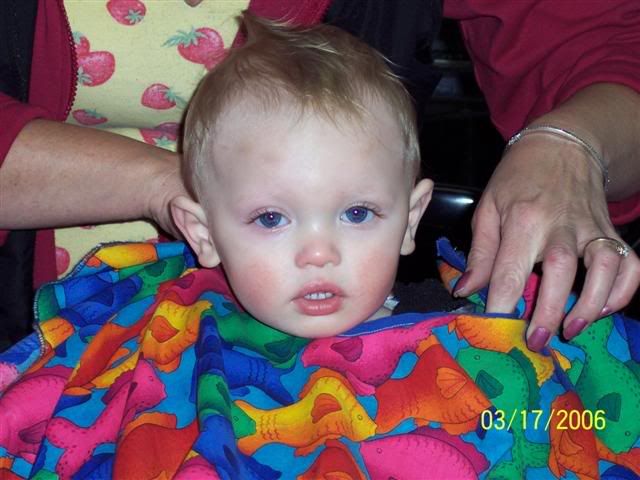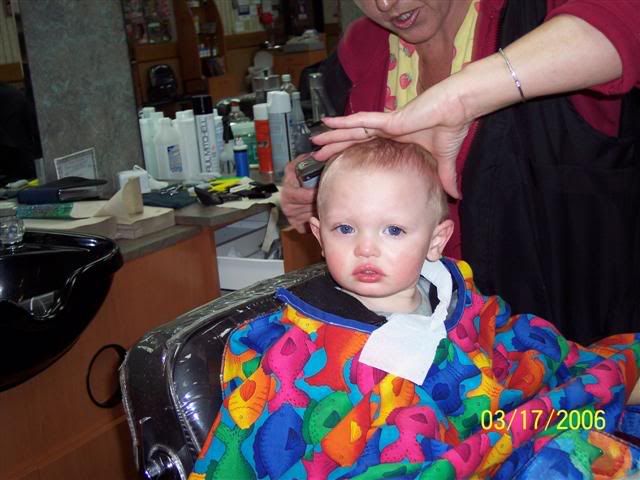 Where is all my lovely blonde locks going?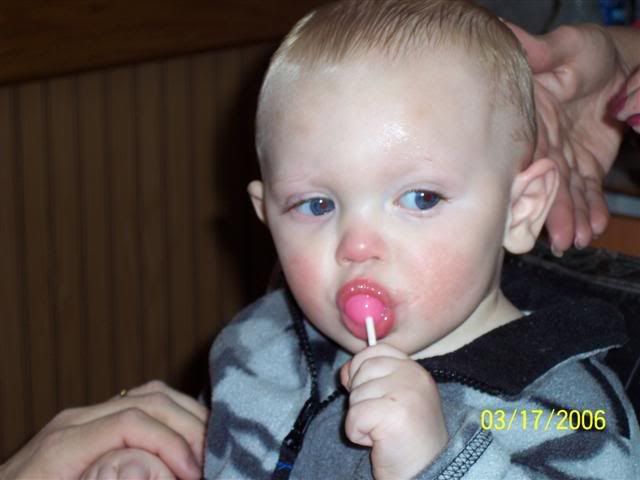 ok.. i can handle this.. a sucker makes things better... is this bubble gum flavor?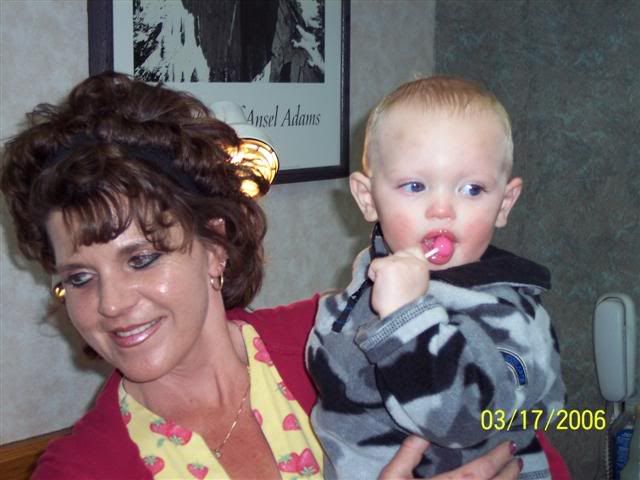 *Here is our little leprecaun*
* Chocolate is the best, i must suck my fingers clean*
Thursday, March 16, 2006
Happy 11 Months my sweet little guy! This month you have certainly kept your dad and i on our toes. Your favorite Things to eat this month are pasta, Nilla cookies, French fries, Vienna Sausages and Bananas. The toy you like most is your ball. You love the Theme song to nickelodeons Cartoon "Go Diego, Go" you light up and start smiliing when it comes on.You are still a go-getter. Now that you have mastered the art of climbing you are on to other things, You like to bend at your waist and plopyour little head on the ground to peek between your legs. or maybe you just like the view of everything upside down.You are obsessed with the pots and pans.. you like to put the big salad bowl on your head while you giggle.Your favorite place in the house is still the place that you have been banned from.. The bathroom! At night you seem to crawl up and find daddy so he will snuggle with you.. whereever he is sleeping and you still wake up with a bigsmile on your face ready to start the day. When we have kids over and they are playing the x-box you always haveto have the remaining controller so you can "pretend" that you are playing too. The bottle is still the love of your life, hopefully breaking you from it wont be hard. You like your sippy cup.. but you would pick your "ba ba"over it anyday. We have started to order your own food from the kids menu when we go out to eat, it givesyou the option to be an individual and not to always eat what Mommy and Daddy is. Your vocabulary includes:"ba ba" -Bottle, "Tickle tickle" -Tickle, "mum mum" or "Ne ne"- Mommy, "Da Da" - Dad, "ticky ticky"-cricket, "HUH"- Huh. I stillcan hardly believe that you will be one in a month. the time certainly has flown by and i am even more eager to see what your second year will bring. I love you..
Monday, March 13, 2006
Miss Mckynna and i took a ride with Clifford. Most of the pictures below are from Chuck e Cheese. We went for amelia and Bradys Birthday party.
We also rode on a Roller Coaster Simulating Ride..

i Played wack something or another with my dad

Riding the Hickory Dickory Dock clock.. boy i look like i am amused dont i?

I rode the big carosel with mom ..

Riding Clifford the big red dog at Chuck e Cheese
Enjoying some yummy Pizza at Chuck e cheese

Sitting on the couch.. May i add he climbed up there all by himself :
)
Mom im stuck.. No really i cant get down.
Thursday, March 09, 2006
A fun meme...
This one is pretty old, but I have never done it before.
Google "(Insert your first name) needs" and list the first 10 results:

here is what we get when we "GOOGLE" Riley Needs

Riley needs to take a look at this kid
Riley needs help out of a shelter
Riley needs a new tricycle
Riley needs to have his own spoon when he eats
Riley needs people who can play the game and have a high basketball IQ
Riley was adopted by a very nice family, but they just did not understand Riley's needs
Riley needs your real name and if you prefer a different name on your symbol please make it clear
Riley needs to improve
Riley will need support from black voters

hmmm.. some of those are very weird.. oh well.. those were the top ten results :)

Tuesday, March 07, 2006
*Eating Out*

Daddy worked double shifts today, so mommy and her friend trish took myself and Brady, Amelia, & Mckynna to Country Chicken (as amelia refers to it) its really Country Kitchen. I ate like a pig as usual. When mommy says i eat like a pig she doesnt mean in in a bad way. She just means that i try to stuff my mouth so full that it falls out all over the floor. Last night she said " i was not a barnyard animal" but i eat like one, and that "i needed a traough" its just so hard sometimes for me to get food into the bullseye (my mouth) so i figure if i grab a handful and start stuffing i will at least get some in my mouth, hey its works for me. Now when i get old enough im sure if i am still making as big of a mess Mom will make me take my food out to the barn(if we have one)! anyway Mom left more "TIP" because i made such a big ol mess. But we had a good time.

Monday, March 06, 2006
Horrible Night*
Not for Riley but for his mommy :( i tried to go to sleep around 9 and again like the past two nights.. My throat oh my throat, it felt like someone was poking me with needles. and the drainage its too gross we wont go there. So this morning after "GOOGLING" Sore Throat, i have came to the conclusion that i may have strep. Strep throat symptoms include fever, pain, redness, and swelling of the throat and tonsils. Strep throat may produce mild or severe symptoms. i have all of the above not mentioning the little white blisters that are present in the back of my swollen throat. but after much research i have come to find out that white patches that appear 3 days after the soreness begins is most likely casued from strep. Im on day three.. the white blisters were apparent this morning. i have an appointment at 1 today hopefully i dont pass this thing on to anyone else.
Sunday, March 05, 2006
Well we certainly had a pretty nice weekend.. aside from bryan and i having sore throats and achy bodies. But riley seems to be doing fine.. im still crossing my fingers and toes and whatever else hoping that my little man doesnt get sick. Riley has got the climbing thing down. this week hes our little acrobat.. i wonder what next week will bring.
Riley climbed into his little Red wagon and was waiting for someone to pull him around the house :)

mom caught me in the kitchen cabinets playing with the pots and pans

This is my New Toy from walmart. its a little lawn mower just like dads big one. I even test drove it down several isles at walmart.

<>
and once again we find riley has torn all of his toys out of his toybox and climbed inside. of course he had his Bottle in there with him.
Friday, March 03, 2006
Riley Loves Spaghetti
yummy yummy.. mom could you get this meat out of my ear please!
alright ill smile for the camera this one time
Now i am getting mad.. Bathtime pretty please?

Wednesday, March 01, 2006
Pregnancy detected! Congratulations, Crissi Lea M*****! You're "with child". Our remote testing system has detected that you're pregnant. The Miracle Of Life has begun!

It's A Girl!
you're going to be the proud parent of a baby girl, and just look- isn't she just so damn cute! Based on our remote test results, your beautiful baby girl will weigh about 8 lbs, 2 oz and have brown hair and green eyes. Truly a Wonder To Behold!
Would you like to know who the lucky father is? Our Genetic Validator module has processed that data and determined who the father must be.
Fabio
You little Fabio-stalking vixen! Admit it- the only way this could happen is if you tripped him and beat him to the floor. Congratulations on your cat-like reflexes.